Estate sale, sign on the door: Come on in! Inside a hint of funky smell, but not too bad. Most of the rooms were corded off, but the kitchen and a huge family room had tables set up with items for sale. I perused, listening to the three folks chatting in the kitchen. Rather ironically they were talking about how it's a better idea to price things so they will move than have a bunch of stuff left over. The irony came from the prices they had marked on everything. But as I remarked to the lady keeping an eye on things in the family room, I don't really care if I buy anything, I just like to poke through other people's stuff.
"Oooh, I found a treasure yesterday," she told me. Turns out she was helping set up the sale, and had washed and dried every piece of china and glass in the house. (Did a good job, too, I would never have known the stuff was dirty a day earlier!) I asked about her treasure.
"It's this little gadget that you peel a hardboiled egg and put it in and press and it makes a square egg! Is that the coolest thing? I just can't wait to try it. I want to see if they stay square after you slice them. If it works, I'm going to make square deviled eggs." She was positively gleeful. "Oooh, those would be great to take to a potluck," I said. "Yeah, and if anyone asks what they are, I'm going to tell them there's this guy I know who's started breeding chickens that lay square eggs." By now we were both cackling. Square-egg-laying hens would have felt right at home with us. I left without buying anything, but a tall tale about square chickens is priceless.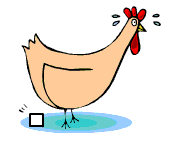 And if you'd told me I would get over (are you ready?) NINETY MILLION hits when I Google 'square egg' I'd have thought that was a tall tale too! I'm happy to report there are pictures of square eggs that have been sliced, so I know there are some deviled eggs going to a potluck somewhere in Salem one of these days.
That was on Friday. On Saturday I was shopping a garage in west Salem and heard a conversation turn to the prices at estate sales around here. "Most of them mark everything ridiculously high," one lady said. And every other person in the garage (yup, including me!) joined in, agreeing. "I stopped at that estate sale not far away before I came over here, and there was a line waiting to get in," she went on. "I'm not going to wait in line and pay too much. Sheesh." Later I ended up at the estate sale she was talking about, and was she ever right. Now really, who in the world is going to pay THREE DOLLARS for a used jar of basil? Yup, that's how they had priced the little jars of spices in the kitchens. I saw another couple pick up a couple of square lidded canister-size jars, similar to the Ikea ones I bought for fifty cents a few weeks ago. A few minutes later I saw them tapping the jars. "I think they're plastic," the woman said. The man tapped his, then held it out to me. "Does this look like plastic to you?" "Yeah," I told him, "and you can probably buy new glass ones for about the same price." They decided to leave them for someone else. Of course, this being polite Oregon, they didn't set them down on the table we were standing by, they put them back in the same spot where they had found them!
My next stop was in the garage of a lady who used to own an antique mall, and one of the shoppers had had a booth there. "What are you up to these days?" she asked, and they chatted for a bit. Then the middle-school age boy with them said, "I thought you were asking me what I'm doing these days. I don't do anything!" I commented that he is probably in school, and I hoped he wasn't doing nothing. His dad said, "Yeah, we're just trying to get him through middle school. I'm going to try bribing his teachers."
"My niece is a middle-school science teacher," I said. "So bribe away. I'm sure she'd appreciate it!" Science seemed to be the key word. The kid began to tell us about a science experiment they were doing where they stuff a chicken with cinnamon lifesavers to mummify it. (Ig. I'm glad I don't teach science!) "I've cooked chicken that came out mummified," someone said.
I felt like a real Oregonian Saturday. My car finally has its Oregon license plates, and I was garaging in the rain. And when I got home, there was a pickup truck parked in front of our driveway, delivering the cord of firewood we had ordered. Not just any firewood either – a load of filbert wood, which aside from fir is about as local as you can get. It took us about an hour to get it stacked, during which we realized it's been about 25 years since we bought firewood. And that we were 25 years younger the last time we stacked it!
I spent a grand total of $5.50 this weekend, garaging in the gentle Oregon rain. I'm hoping this thing will help us open the stubborn jar lids that seem to be getting more and more stubborn.
It's also a potholder and a trivet, and has a magnet so it can hang on the fridge. Such a deal. So was this lighted stand.
It changes color.
I bought it to display this piece on that I picked up a while back.
There's just one catch. I can't find the darned thing anywhere! Of course we're not 100% unpacked yet, so I live in hope. Cross your fingers that I didn't put it in box of stuff for the thrift store in a fit of clearing out.
I plucked a lovely monogrammed bridge cloth from a free box.
It's badly stained, but I can't resist seeing if an oxy soak will refurbish it.
I thought these teak fish salad/snack bowls were just a hoot.
Back in the realm of the practical, I scored a box of vintage, extra long sewing pins
an oak outlet cover
some little foam dot thingies to put on the bottom of stuff so it won't mar your table
and a few tiny tapers for my Dansk candle holder. Tiny tapers are now permanently on my search list. I can't bear to pay very much for something I'm going to set on fire.
Found a copy of perhaps the only movie sequel that was better than the first one.
I'm looking forward to reading more of this sewing guide from the 1920s. How can you resist prose like "From doll dresses of the simplest sort to stately gowns – all have held my interest and given me in their creation a great deal of happiness."
And from the same sale, a big chunky magazine from 1958. It'll look great on our coffee table.
Some of the articles are by quite famous writers (Eric Ambler, Kenneth Tynan, C. P. Snow, Joyce Cary). I'm sure I'll get around to reading them someday. But (she admits, blushing) it was really the ads that made me spend my quarter.
I want one of these for my carport.
Of course I really want this one, but I don't think it would fit!